Karan Valecha believes that the secret of great work, is the love you have for your work. Karan shares about his experiences, learnings and culture at Kiprosh.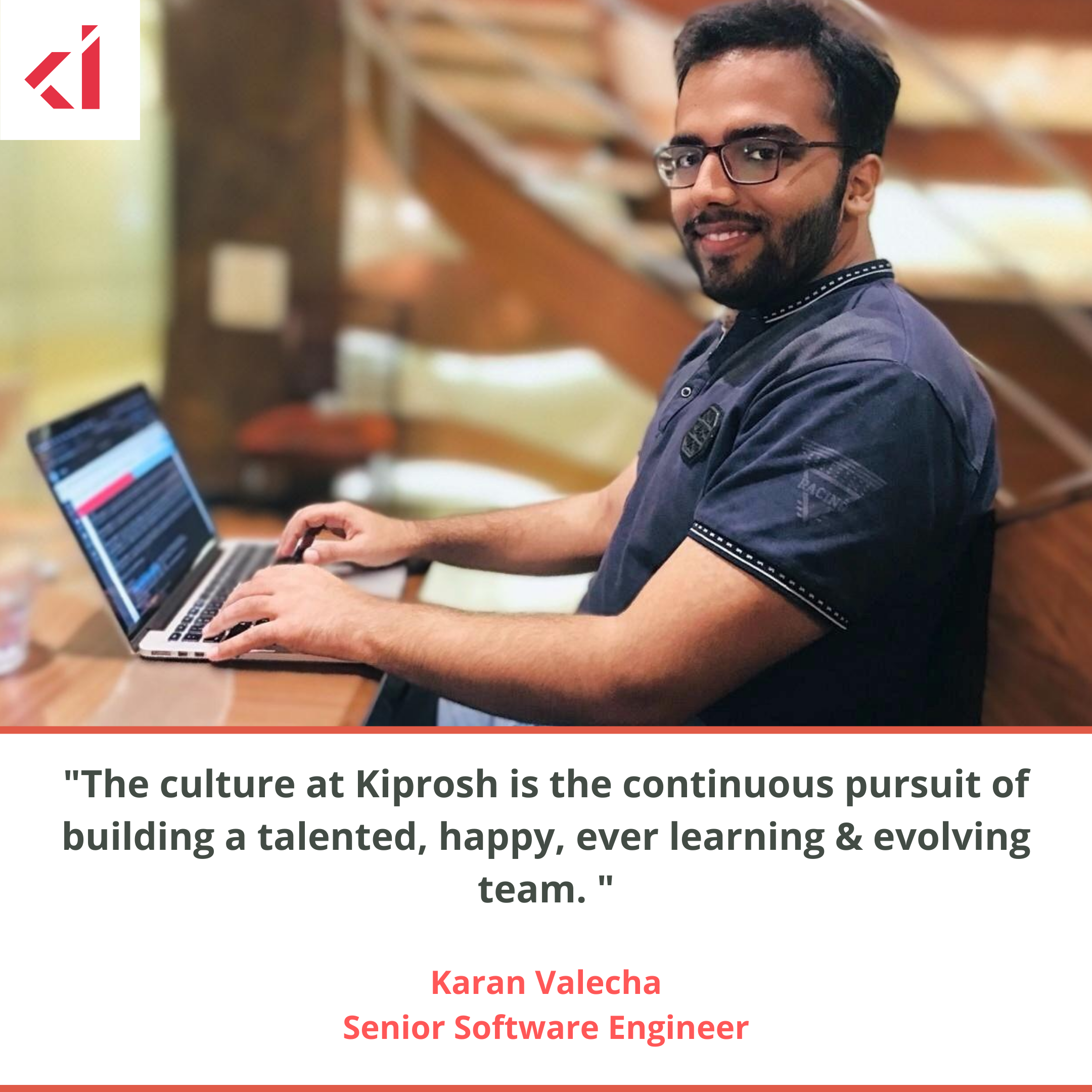 How long have you been with Kiprosh? And how would you describe your journey here?
Karan : The journey so far has been amazing. My career as a developer had begun at Kiprosh, where I still remember meeting Rohan and Shivani at the tech meet up. Shortly after that meeting, I joined Kiprosh as a Software Engineer for Ruby on Rails project, exactly what I always wanted to do.
I have gathered many skills from various collaborations with my amazing team. Kiprosh as a company has a positive attitude towards learning, a culture that supports an open mindset, an independent quest for knowledge. Now I will be completing 5 years soon at Kiprosh, already feeling nostalgic, reminiscing the beginning of my career.
What do you consider as your biggest achievement at Kiprosh?
Karan: I did not join the traditional Engineering college and did not have the luxury of campus placement, so obviously it was difficult for me to find an organization that I can link to or work in.
I was on a spree to find people with matching tech skills and interests. And when I met the leadership team of Kiprosh - it looked like a lot for what I was searching for. Few days later, I was asked for an interview. I still remember how Rohan and Shivani trusted me basis some limited interactions and I could begin my career with the organization.
So that's an achievement for me that I could prove them right - Here we are 5 years down the road and I've contributed to various projects in the role of a Senior Developer already. Kudos to us, as a team!
What do you think about the organisaiton wide OKRs (objective key results) process? How does it help you as a team and individual?
Karan:  With OKR I get to rely on focussed outcomes and answer following three essential questions:
"Where do I want to go?"(Objective) ,
"How do I know if I'm getting there?"(Key Results)
"What will I do to get there?" (Initiatives)
The best part being, the team members have full ownership for their own Objectives and Key Results to align them with project & organization.
The major change I see is 'What' the Team has prioritized for a given quarter and 'How' will everyone achieve it. This ensures transparency and alignment. My "Objectives, Key Results & Initiatives" are open to the team members, in fact it's open to the whole organization across teams. This approach has helped me set my goals and achieve better results together as a team.
How is the collaboration between various teams and how Kiprosh as a company ensures smooth collaboration?
Karan: To ensure intra-team collaboration and seamless communication we use tools like Slack, Trello and Github effectively with  in-house custom process that helps to keep a track of progress in projects and improve productivity. This also helps team members streamline their work and optimise their inter-team processes.
To imbibe collaborative behaviour across team members,  there are Agile coaches at the Organization level who provide guidance and conduct Retrospectives for all teams working together. This helps us build empathy among various groups.

What is your favourite workplace culture?
Karan: One of the team-collaboration events that I like and is consistent every month, is the Friday Frolic sessions.
A team of associates who are part of the Kiprosh Fun Committee engage the entire organization for learning, sharing life experiences, and having loads of fun. I like the idea of the entire Kiprosh team participating here during Friday Frolic as one family, and interacting on various topics. I am glad that this continued to happen virtually even during the lockdown while we are working remotely.