Mamta Kukreja, a vibrant Kiprosher and a food lover at heart shares insights, regarding her work and career choices.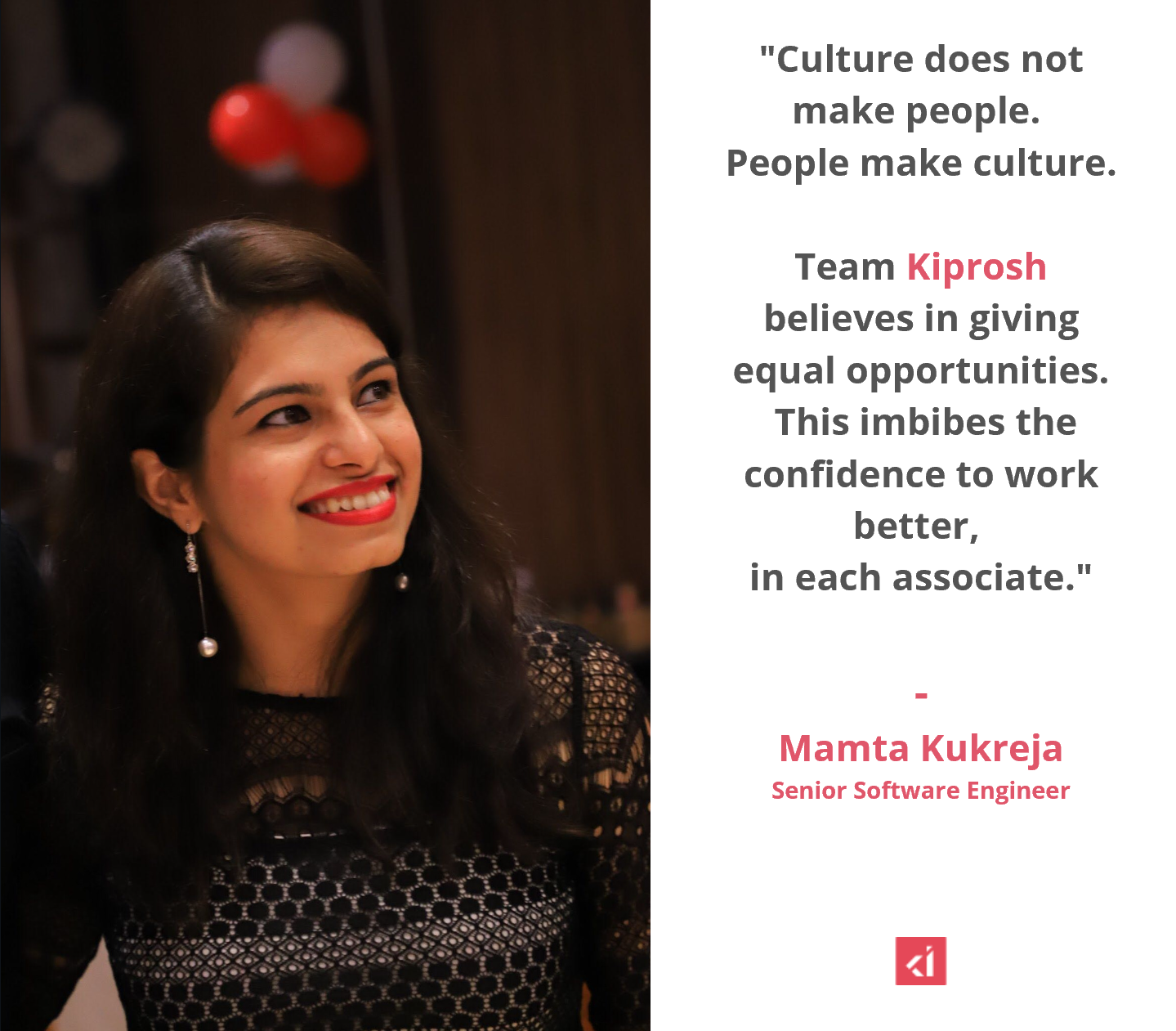 Q: You have worked earlier as a freelancer and remotely, before joining Kiprosh. How do you feel about switching to a full-time job?
Mamta: The opportunities to grow are very slim when you are working as a freelancer, as you do not have a team or mentor to guide you.
In the case of a full-time job, an individual is a part of a team or project, where the mentoring relationship with the team leads, help the more experienced coder/associate to learn new skills. Also, consistent feedback and support help you outperform. I feel grateful to have this opportunity.
Q: What stood out about Kiprosh, that drove your decision to join the company?
Mamta: Honestly speaking, I wanted a challenging environment that can foster my professional growth and advancement. Kiprosh as a company had a global clientele and robust Agile product development methodology in place. I had read reviews online which gave me a positive outlook on the culture of the company.
This drove my decision to join Kiprosh.
Q: With respect to the current situation of COVID-19 associated with complete lockdown, how are you managing remote work?
Mamta: Since the time I joined Kiprosh, we were already a remote-friendly organisation i.e. we were working remotely twice a week with flexibility to take more remote days in a week or a month depending upon personal circumstances and project needs. This enabled a lot of flexibility and work-life balance.
So luckily, there have been no hiccups to go fully remote during these tough times of the COVID-19 pandemic. Rather, it was quite easy as the work culture was already set up in Kiprosh for the past many years to collaborate remotely.
Q: How has your experience been with your team and team lead so far?Mamta: My team lead gives us new perspectives and ideas to ponder upon. Everyone in my team has been very supportive. There have been times when my work-timing window has not matched with my team, but I think being patient and understanding is the key to survive such circumstances. A shout out to my colleagues here at Kiprosh who make this journey all the more seamless.
Our team consists of an iOS App development team, which I am a part of, and an Android App development team. There is a healthy competition between the two teams, which helps us to not only grow but thrive! We have managed to strike the perfect balance at the core of it all! The secret to this is thorough requirement analysis and frequent releases of Beta versions, thus resulting in immediate feedback from the client.
Q: You have also received an award as 'Remote Champion of the Year'. Could you please share what helped you, win this award?
Mamta: Haha, I am humbled, but there are no secrets. It's just proper planning that did the trick. I have always been an over-planner, never thought I would receive an award for the same. Also, I believe when you are working remotely with your team, communication; rather over-communication is the key. Always make sure that whatever you communicate, it has to be clear and properly understood by the other person. Wrong information is worse than no information!
Q: How has Kiprosh enhanced or shaped your career so far?
Mamta: Kiprosh has provided me with ample opportunities for growth that aligned with my career goals. It's always been about delivering quality here. This process of striving for high-quality output has pushed me to question myself, and not only grow technically stronger but become a better version of myself.
Q: If there were one area that you've always wanted to work upon, what would that be?
Mamta: Communication and collaboration are essential to make associates (we call all employees as associates) and teams successful. So for me, soft skills matter in IT. One area that I am keen on practicing is to conduct organisation activities to improve soft skills like communication, empathy, and facilitate agile retrospectives where associates can discuss these skills as well as look for strengths in those areas that can be used to further increase team performance.
At Kiprosh, we have various company-wide events such as Friday Frolic sessions and Webinars every month and I participate in such collaborative activities that involve maximum team synergy.