A decade back, a remote retrospective used to happen via conference calls. However, now the trend is changing. Companies are moving towards a remote-friendly environment. Also, because of technology, the world is very well connected now.
When we work with remote teams, we feel it might be challenging to conduct a retrospective effectively. However, it is much more comfortable today because we have better video conferencing services, online tools to provide retrospective notes and, collaboration.
Some companies work full-time remote while others, like our company, Kiprosh have a partial remote working provision. Hence, there is a fair chance of having all team members entirely remote on any particular day. In such teams, remote retrospectives are very useful and effective. Now we have a variety of tools to do a compelling retrospective.
To perform this retrospective, I utilized the following tools:
Trello Board (Free Tool)
Zoom or any other video conferencing tool such as Hangout/Skype/Slack call etc.
Good headphones
And a smooth internet connection 😉
Getting started
You can dial in for the video call on Zoom/Meet or your preferred means of video conferencing.
Usually, whenever I start with my retrospective, I begin with an ice-breaking session, especially when
doing it with the team for the first or second time
the team lacks camaraderie
the team dynamics are new (where there is an influx of new team members)
As they say:
When our heart opens up, we are more receptive and open
For the remote retrospective, we begin with an ice-breaking session named - "I appreciate you,"
People will open up when they are happy and feel welcomed, and nothing works better than appreciation.
We used Trello for "I appreciate you" ice-breaking session. I love Trello for its simplicity. In Trello, we can see all the activities in real-time, be it card creation, movement, or deletion. Trello has excellent features like custom labels, due date, checklist, and an option for tagging people on the card as well. I used most of these features while conducting my online retrospective and found them quite helpful.
As per this ice-breaking session, each member has to appreciate the other members. Write one Trello card per member and add a label in the Trello card with the member name or start the card with a person name. We give 10 minutes for this exercise, and as it is time-bound, the team stays focused on writing their cards. We start seeing real-time appreciations coming in Trello.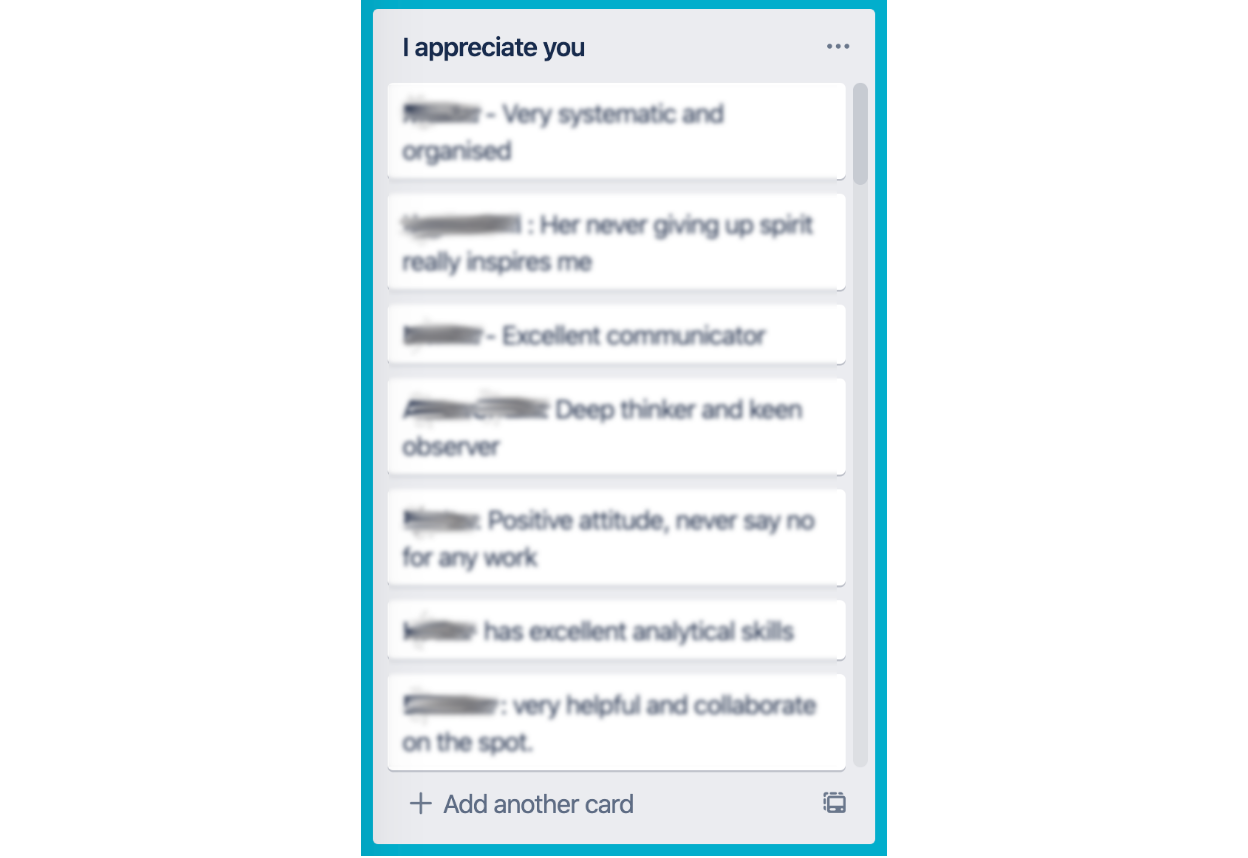 Once done, we go over all the appreciations and clap for the members. Post this exercise, the atmosphere is all warm and happy. Team members are receptive, and the conversation gets started.
Time to Retrospect
Now it's time to move on to the remote team retrospective. Firstly, I created three lists on the Trello board. Feel Fantastic About, Feel Not So Good About, and Continue Doing. Over the call, I asked everyone to start creating cards for the Feel Fantastic About list. One card per item. The team started pouring in their thoughts. Here Trello cards act as sticky notes.
(I see many benefits of using Trello card as sticky-notes - save paper, do not lose the data, and no issue of lousy glue sticky-notes 😉)
Once the Feel Fantastic About list was completed, the team moved to Feel Not So Good About and Continue Doing. Once everyone finished adding cards for the three lists, I created one more Action Items list.
Now we discussed all the cards in the three lists. We started with Feel Fantastic About. In Feel Fantastic About, we got some areas where the team has performed excellently, so the whole team clapped.
We came up with the action items during our discussion on Feel Not So Good About and Continue Doing. Then the team came up with suggestions to overcome the problems. I started creating the Action Items in the Action Item List. Finally, we had valuable Action Items ready.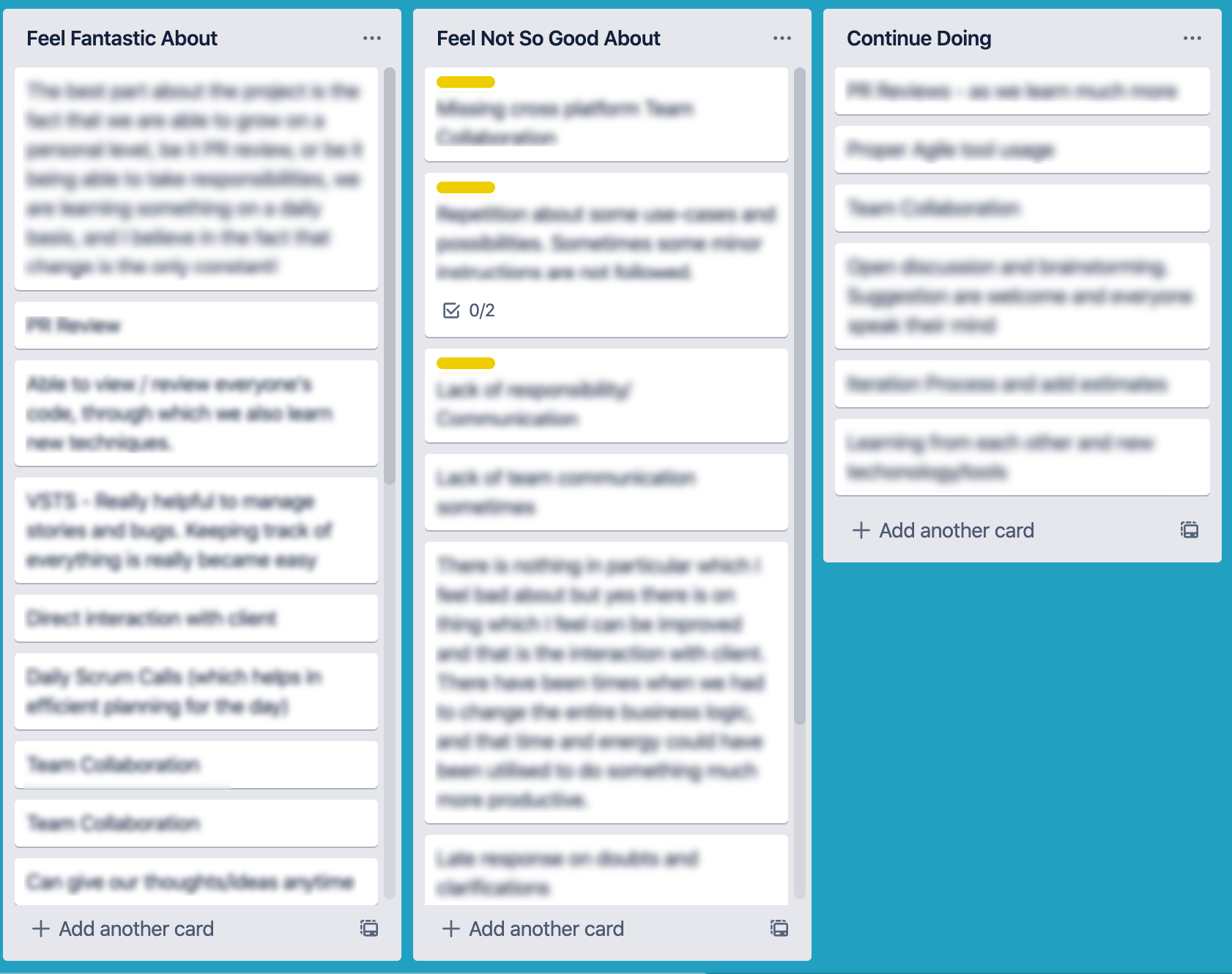 Once Action Items were ready, we started assigning items to the team member(s). I also created two more lists in Trello, Doing, and Done. Each card is labeled with priority (high, medium, and low), due date, and team member(s) tagged to the card. Also, I added a checklist on the card where we got excellent suggestions.
With Trello, we can be more productive, even post the retrospective.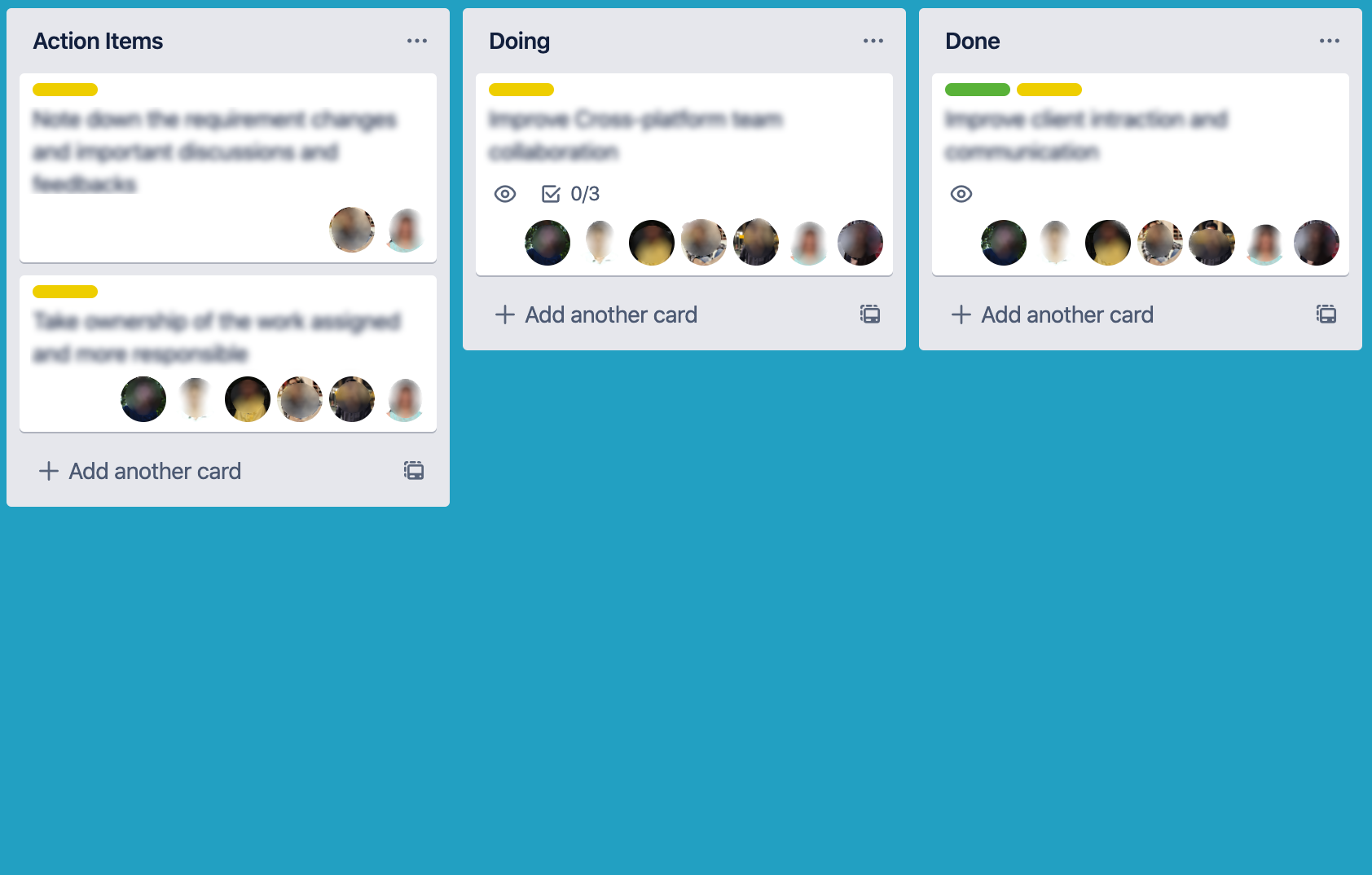 As soon as the team member starts working on action items, they move those cards to Doing. And once completed, then proceed to Done.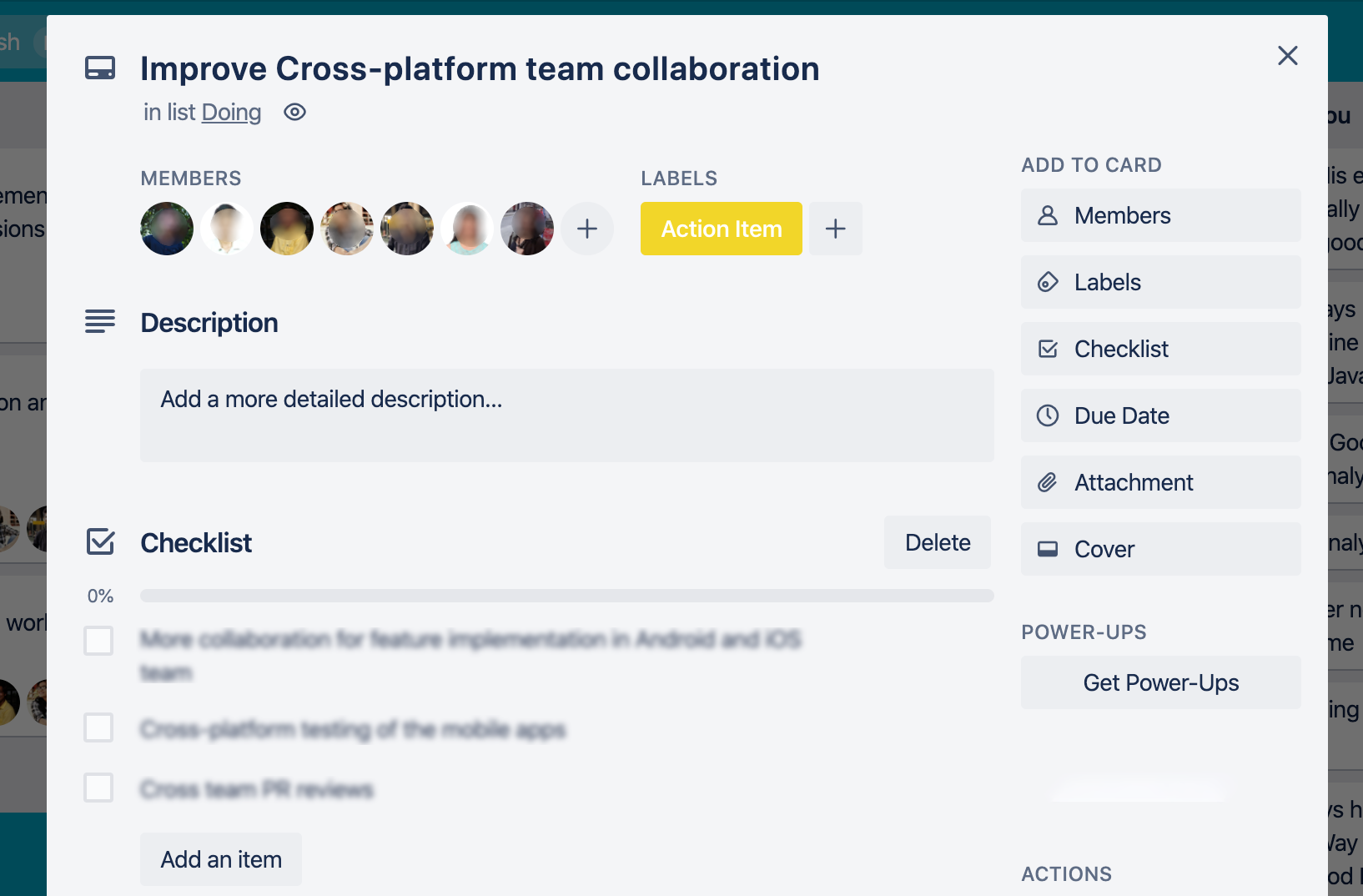 In the next retrospective, the previous retrospective Trello board becomes handy as we can quickly refer to the completed and overdue Action Items.
Summary  
It is possible to have a very productive retrospective with remote teams using technology in the right way. Also, it can be more streamlined because of tools like Trello.
If you enjoyed this post, it'll be great if you'd share it with your friends or share it on social media. If you tried this retrospective, let me know how it goes and any suggestions, please do share.
Thanks to Yassal Sundman post. While I was writing my blog, I happened to read her blog on similar lines. Also, Fun Retrospectives is one of my favorite sites to get ideas about retrospectives.